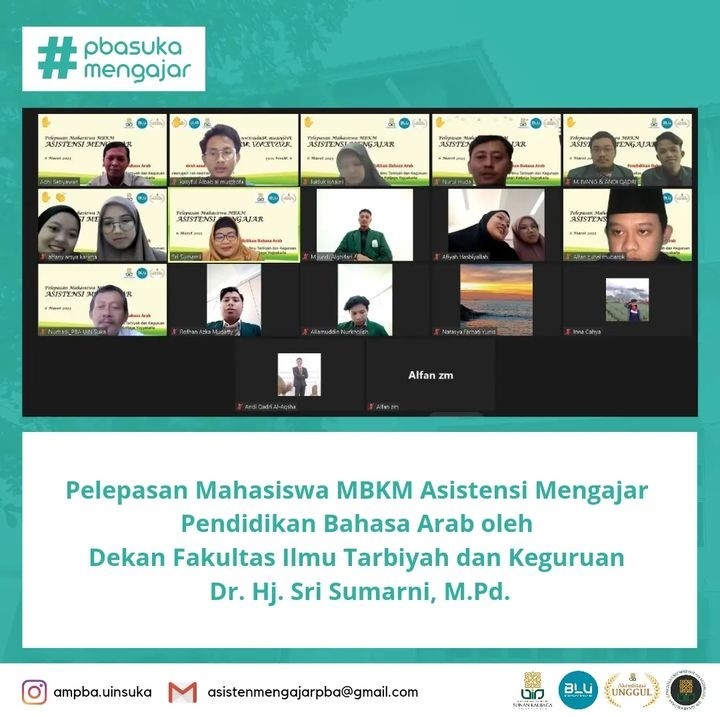 The extrication of students for Independent Learning and Independent Campus of the Teaching Assistance Program, Arabic Language Education, Faculty of Tarbiyah Sciences and Teacher Training of UIN Sunan Kalijaga Yogyakarta has been held on Monday, March 6th, 2023, through a zoom meeting and this agenda is for the past few months until the debriefing period. The event was attended by the Head of the Arabic Language Education Study Program, UIN Sunan Kalijaga, Mr. Dr. Nurhadi, S.Ag., MA., accompanied by the secretary of the study program Mr. Nurul Huda, S.S., M.Pd.I., and all Field Supervisors, namely Dr. Adhi Setiyawan, M.Pd. and Mrs. Dr. Rohmatun Lukluk Isnaini, M.Pd.I., as well as the Dean of the Faculty of UIN Sunan Kalijaga, Mrs. Prof. Dr. Hj. Sri Surmarni, M.Pd. which at the same time officially released the 2023 Independent Learning and Independent Campus Teaching for Assistance Students.
Independent Learning and Independent Campus of Teaching Assistance Program of UIN Sunan Kalijaga Yogyakarta was attended by 12 students who will be deployed in 6 schools, namely MAN 2 Yogyakarta, MTsN 10 Sleman, SMP-IT Masjid Syuhada, SDIT Ma'arif Nahdhatul Ulama Ta'limul Qur'an Klaten, MITQ Al-Mashurah Banjarnegara, and TPQ Prasojo Baturetno for approximately 3 months. Then it will also help in the innovation of learning media in the Indonesian School of Cairo in Egypt and Saudi Arabia. The Assistance Program of this Arabic Language Education study program aims to equip Arabic Education students with a variety of skills and skills by becoming teacher and school partners in developing learning models, as well as fostering creativity and innovation in Arabic language learning.
In addition to creativity in teaching Arabic, students will also be allowed to innovate in various ways, such as entrepreneurship, learning media innovation, and even conduct mini-research as a form of mutualism between agencies and universities or study programs. The Dean of the Faculty, Mrs. Prof. Dr. Hj. Sri Surmarni, M.Pd advised students to continue to try their best during the Teaching Assistance period. She also did not forget to give advice to students to maintain the good name of the agency, manners, and discipline during the assistance program. And finally, the Head of the Arabic Education Study Program, Mr. Dr. Nurhadi, S.Ag., MA. also advised to maintain our university name, Islamic values, and good relations between students and teachers as well as students and students. This event ended with a documentation session using the background of the extrication of Independent Learning and Independent Campus Students for Teaching Assistance in Arabic Language Education of thus Faculty in 2023 as proof that 12 students of Arabic Language Education of UIN Sunan Kalijaga have been officially released.